With Missy away, I can't be assed to think of up/down themes anymore, so this is just a straight going up v. going down one. - Em
Going Up
Bringing back your VHS collection
While you've been waiting for My So-Called Life to come out on DVD, our new BF Jennilee has been secretly buying up VHS treasures like Detroit Rock City and Singles at her local dollar store. They're cheaper than Starbucks and if Jennilee is ever faced with someone forcing a Grey's Anatomy DVD box set on her, she can be all "Sorry, I only watch VHS."
Sweating is the badge of a good time. If you're not sweating, you're not having enough fun. Jump the mosh pit, get under stage lights or rub against someone who IS sweating. It's all about looking like a newborn baby on other people's flickr accounts.
eBay purchase of the day goes out to BFF
Francis
who scored the :20 Workout on vinyl, bringing back fond memories of the original legwarmers and spandex. Loving the hi-cut unitards.
Download the pilot for free.

Prolific designer who can actually put "inventor" down as his profession (e.g. the
CD player
he designed for Muji is in New York's Museum of Modern Art permanent collection.) A monograph bearing his name will be published by Phaidon Press next week. If you're like us and can't afford the book, check out his
website
.
Predictable celebrity couples
As in CSS's Lovefoxxx + Klaxons' Simon Taylor-Davis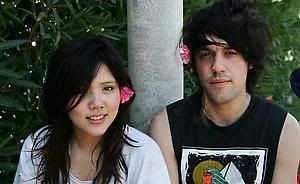 photo: nme.com
As in Pete Wentz + Ashlee Simpson

photo: celebrity-gossip.net
Yawn. Wake us up when the PR's wet dream is over.
Jennifer Aniston for Smart Water
Our NYC-based BFF, Pari, told us the following anecdote last year:
"I was on the subway and saw a poster for that Break-Up movie with Jennifer Aniston. And someone had taken a big black marker and scribbled "NYC Bitch" on her face. It was hilarious."
So Pari, please keep us updated on the status of this poster: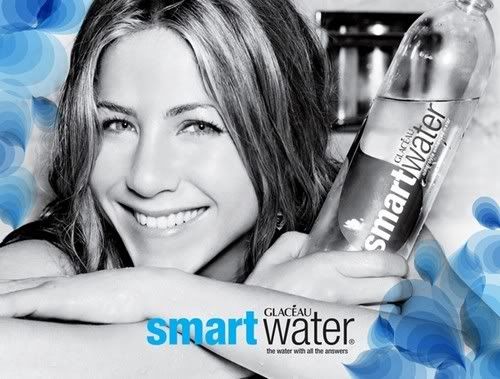 Oversized leather handbags

Same reason why you shouldn't wear leather jacket/trouser/gloves in the summer. Switch to canvas or straw until Labour Day or risk looking more tired than Rachel Zoe's face.

Gwen Stefani
Drag queen + Cyndi Lauper+ Karaoke